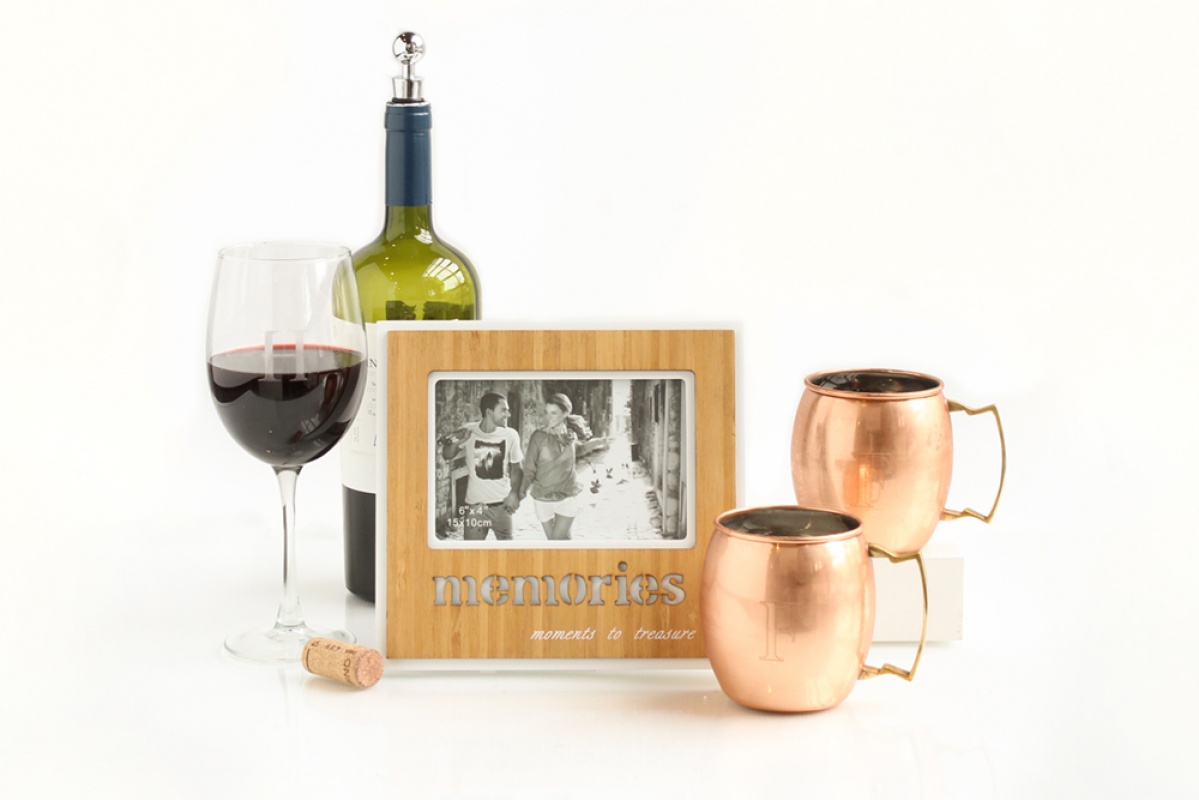 Blessing the newlyweds with a gift for their new home and life together is traditional and a thoughtful gesture. And personalizing the gift makes it all the more special. We love personalization because it shows extra thought. It also ensures that the couple is receiving a gift unique to them. And if you're looking for personalized wedding gifts, you've come to the right place. We took a look at your most asked questions and wrote our advice for choosing personalized gifts for everyone in the wedding. (Yes, the bridal party and guests included!) Take a look to discover our tips and tricks as well as gift ideas for the whole gang.
What are good personalized wedding gifts? Where to buy personalized wedding gifts?
When it comes to buying a so called "good" personalized wedding gift, we advise you to take a look at the couple's interests — especially any shared interests. If the couple enjoys cooking together, consider a personalized cutting board that features the couple's names or monogram. If the couple enjoys hosting get-togethers, consider getting the couple a gift such as personalized wine glasses. The possibilities are truly endless and there is no "right" or "wrong" answer for a good gift. All you have to do is put some thought into what the couple will enjoy. If you are wondering where to buy personalized wedding gifts, take a look at the Beau-coup Gift Shop. With items that both him and her will enjoy, the gift shop holds plenty of choices for the perfect gift.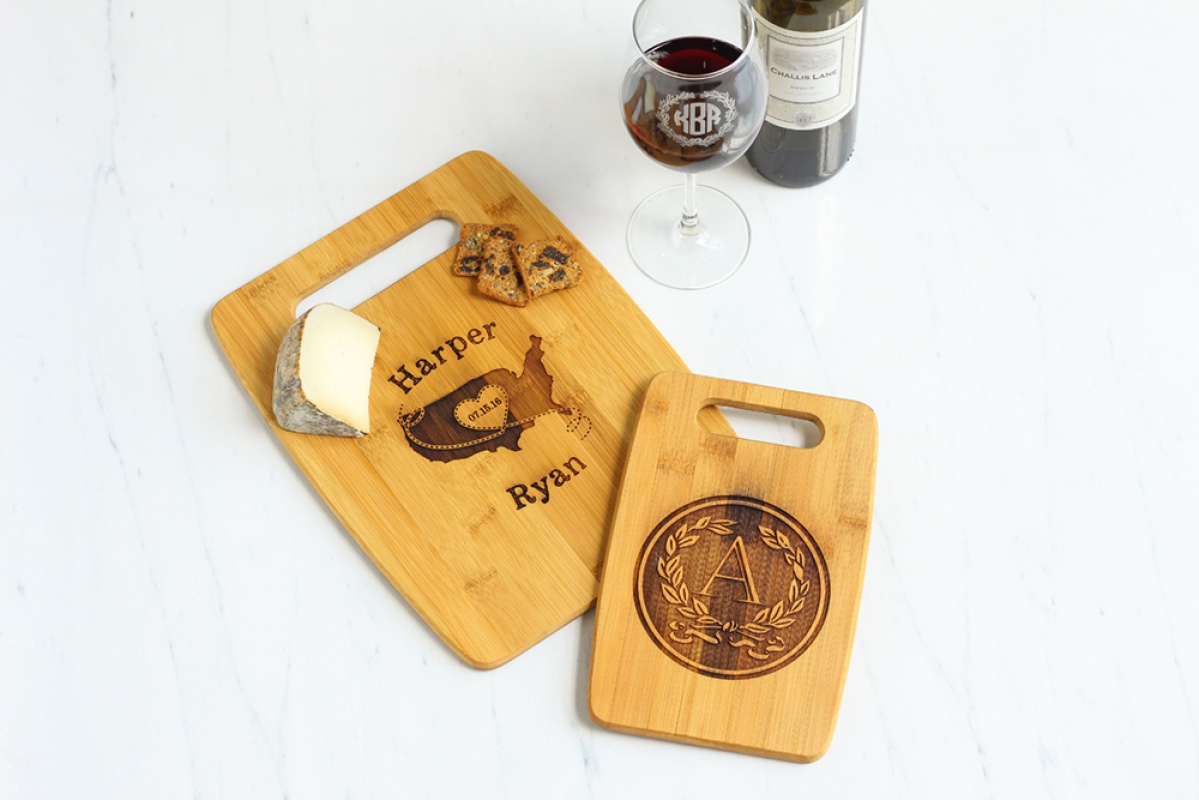 Personalized Wedding Gifts for the Couple & Personalized Wedding Gifts for the Bride and Groom
As we mentioned earlier, when selecting a gift that pleases the couple as a whole, think about what their shared interests are. Perhaps they enjoy picnicking — than a personalized picnic blanket or cooler would make an excellent choice. You may also want to consider practical items like kitchen and home gear. If you are shopping just for the bride, take a look at what her interests are. If she collects jewelry, a personalized jewelry tray would be the perfect gift for her. If she loves to curl up with a good book, consider a personalized pashmina to keep her cozy. The same rule applies to the groom. Think about what he loves and go from there. If he loves golf, then he would love personalized golf towels. And if you want to stick to gifts that are "safe" and perfect for all personalities, consider items such as personalized drinkware or coasters.
Personalized Wedding Gift Bags for Out of Town Guests & Personalized Wedding Hotel Gift Bags
Setting up personalized wedding gift bags for out of town guests or personalized wedding hotel gift bags is an idea we especially love for a destination wedding. Typically, loved ones come from both near and far for a wedding, and for those who come far, it's thoughtful to show a little extra appreciation for their travels. Think about the theme of your wedding as well as practical items that pertain to being "prepared" for a wedding. Items like, breath mints, hand sanitizer, or lotion. Stick your goodies in a personalized gift bag or box, add a welcome note, and coordinate with the hotel your guests are staying at to have the goodies ready in their room before they arrive. Trust us, this little act of kindness shows a lot of appreciation and your guests will love that you took the time to treat them to something extra special. For some inspiration, we created some Welcome Bags and Welcome Boxes for wedding guests, so be sure to take a peek!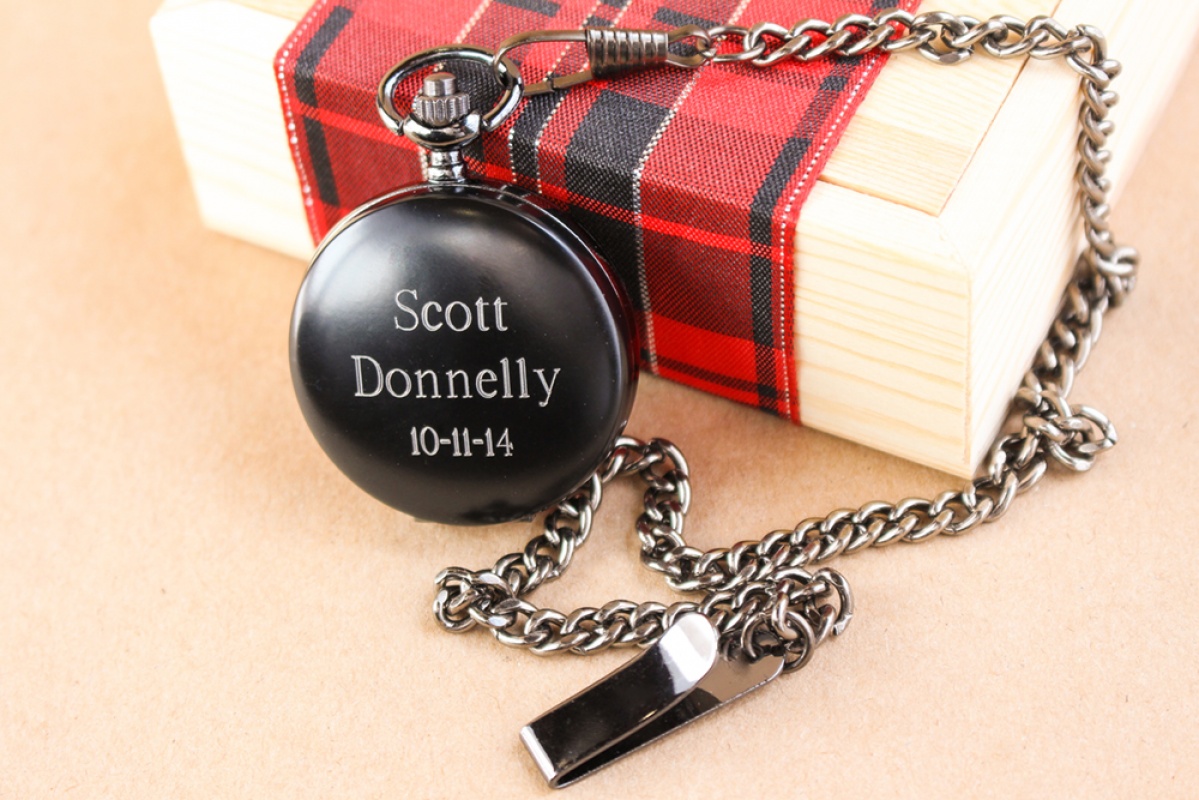 Personalized Wedding Gifts for Bridal Party
Thanking your bridal party with gifts is customary and most appreciated. Remember — your bridal party (including bridesmaids, groomsmen, the flower girl, ring bearer, etc.) have put a lot of time and effort into helping with your big day. From planning bridal showers, to renting tuxes, and potentially traveling from far, your bridal party has helped make your wedding day as well as the journey to the wedding special and less stressful. And thanking them with a gift is a kind way to show how appreciative you are. Consider practical items that each group will love, such as personalized totes for bridesmaids and personalized pocket watches for groomsmen. But don't worry if you'd like to get everyone in the group a little something different. For more etiquette on gift giving, check out our Bridesmaids Gift Etiquette article as well as our Groomsmen Gift Etiquette article.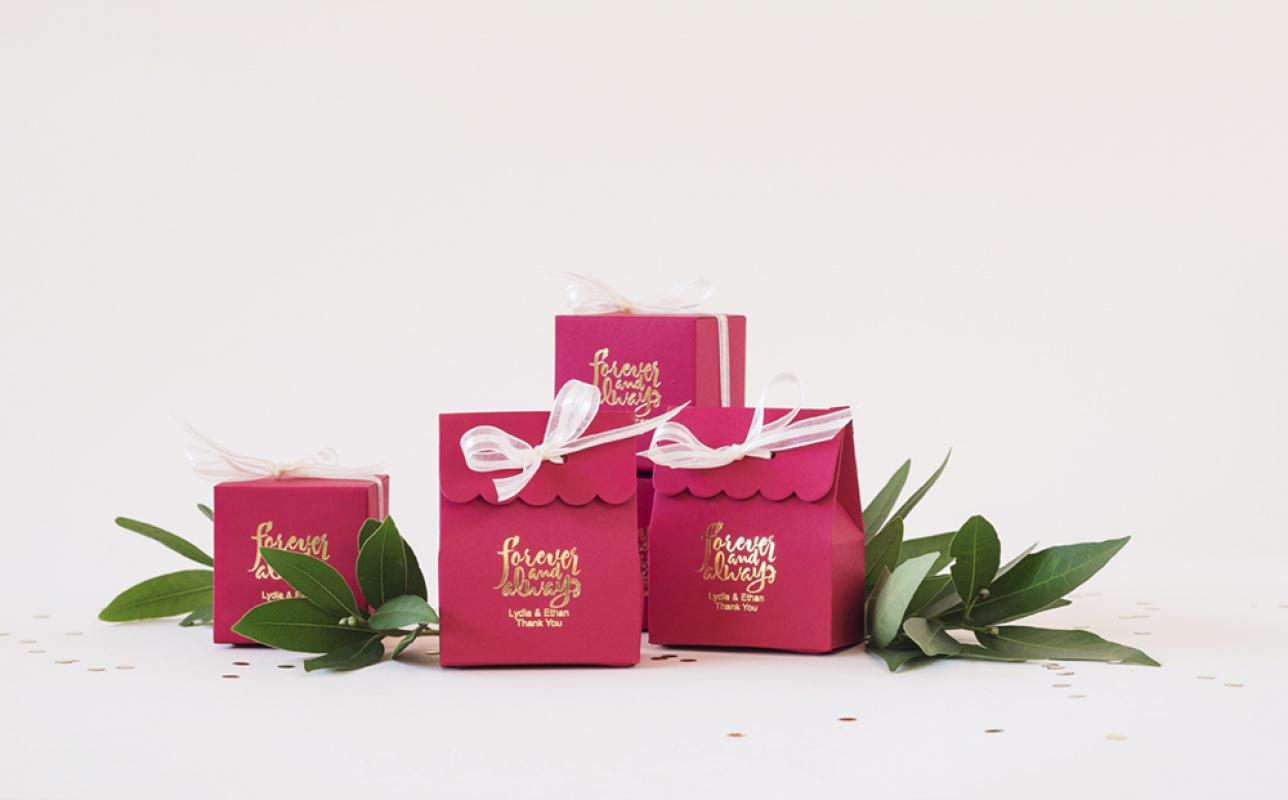 Personalized Wedding Gifts for Guests
Last but not least, personalized wedding gifts for guests are also a kind way to show appreciation to all in attendance of your big day. Gifts (also known as favors) come in many shapes and sizes, and there is no set rule as to what you should choose. What we recommend is to look at the theme of your wedding and go from there. If you are having a beach wedding, your guests will get a kick out of personalized sunglasses. Or if your wedding is at a vineyard, consider wedding favors such as personalized stemless wine glass or personalized bottle openers. For more ideas, be sure to take a look at our Wedding Favors Etiquette article.